Commercial Preventative Services
Pests can seriously damage or even destroy your livelihood. An unchecked pest infestation can lead to physical damage of buildings, loss of business reputation, premises closure or even large fines or imprisonment in worst cases.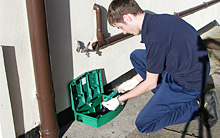 Our Pest Prevention Service Protects
White Rose Pest Controls Pest Prevention Service involves regular inspections, treatments and written reports detailing any pest issues on your site. This history of action will help you to show your due-diligence and act as a legal record of your actions to keep your business pest free.
Our qualified technicians will carry out a thorough inspection of your premises and check all pre-installed pest monitors for signs of any activity. The service includes free callouts and follow ups to combat pest activity.
Should a dangerous pest issue be found it will be eradicated before it becomes a threat to your business' survival.
This service is flexible and is tailored to your needs. It can cover everything from rodents to flies, Cockroaches to feral pigeons, and everything in between.
The number of scheduled inspections will be tailored to what you need to stay pest free and profitable. We never lose sight of the fact that you are the customer and we are working for you.
We currently provide pest prevention services to a large range of businesses including, Housing Associations, Hostels, factories, public houses, restaurants, managing agents and office blocks. With over 30 years combined experience resolving West Yorkshires pest problems and prices starting from just £200 per annum for our on-going pest prevention service, we feel confident that we can protect your business with service that is second to none.